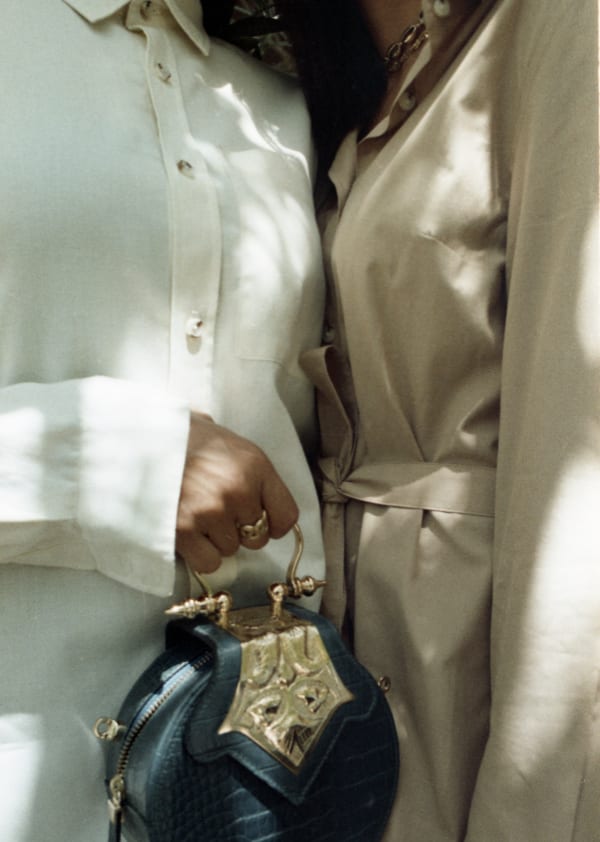 Pre-Fall Shirting
Interwoven
In partnership with miilkiina, a creative agency focusing on collaborating with local creative professionals, we sat down to hear stories of interwoven relationships—both personal and professional—of four creative Egyptian groups paving the way in their respective industries.
Set in Cairo, Egypt. Photographed by Malak El Sawi. Interviews by Lara Arbid.
Chapter 1
Okhtein: Pioneers of Luxury
Sister founders and Creative Directors of Okhtein, Aya and Mounaz Abdel Raouf are known for their unique pieces that highlight Egyptian influences and artisans. Through their inimitable taste, teamwork, trust and love, they've created a brand that is paving the way for young Egyptian designers to come.
Tell me about your background and how Okhtein started.
Aya: Mounaz and I wanted to start something together since we were in high school because we always had amazing teamwork. She's an artist, and I loved fashion and styling.
Mounaz: It felt like the right time to do something together. We decided to get into fashion and we specifically chose accessories because we love handbags. We think an outfit is complete with accessories. That's how we launched in 2014.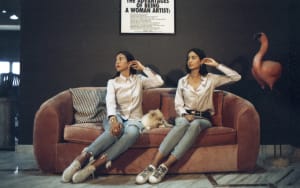 "We're both sensitive, we love art, we share the same love for music, food, and we have the same friends. But we're different in our personalities and the way we handle things. Mounaz is a people's girl—she's very outgoing. I'm a bit of an introvert—I like my space and my quiet time. When it comes to work and handling stress, Mounaz can be a bit more emotional, and I'm more rational." —Aya
"With us, there's no blaming and we don't hold grudges. We always take responsibility because we're sisters."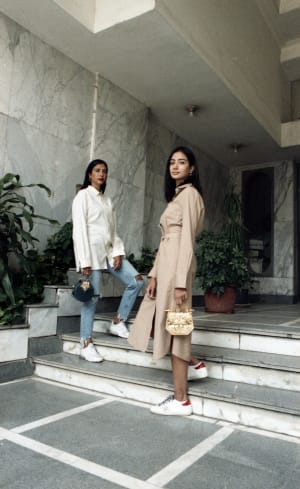 What has been the most incredible career highlight so far?
Mounaz: There are several milestones, one would be winning the Vogue Arabia Prize, which was our opportunity to start selling internationally. It was a push for us, and the opportunity of selling at Browns and Curve was amazing.
Aya: If that didn't happen we wouldn't have reached Beyoncé.
How did that happen?!
Aya: Since we were selling at Curve in LA, her stylist bought the bag from there, but we hadn't reached out to her.
This is going to sound like a ridiculous question, but how did that make you feel?
Aya: Oh my god… we're the biggest Beyoncé fans ever. How it happened is the crazy part. It was actually during a difficult wholesale season, and I had told Mounaz you know what we need? We need Beyoncé. Between Tuesday and Friday, we were listening to her nonstop, and on Friday, she posted the bag on Instagram.
Mounaz: It was like we attracted it. I get goosebumps just remembering that.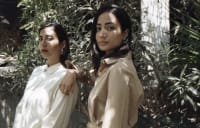 "Our brand is an Egyptian story, but I do feel that we're an international brand. Our designer friends are from all over the Middle East, and the support we give each other is amazing."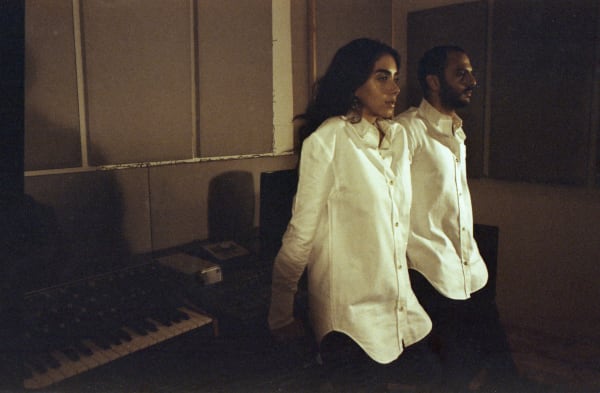 Chapter 2
White Noise: Beat of Cairo
Founded in 2017, White Noise is an independent music production house that creates unique and original sound content for television, film and advertising. Singer/Songwriter Malak and Composer/Producer Moataz, provide the ultimate balance of talent, discipline and spirit to disrupt Cairo's music scene.
Tell me about Cairo's music scene. When you first started did you feel like you had the support from the music community?
"It's a very close circle of people that work together in Cairo's music industry, so it's hard to make room for someone new."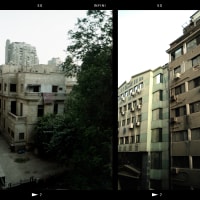 Tell me about how white noise started.
"My friend connected me with Moataz and we started working together on our friend's roof. It started out with us just trying to find a space to work together. We just wanted a space for him to produce, and where I could sing and paint—just a creative space. Then we realized we should start doing commercial work for clients and try to actively penetrate the music production market in Cairo." —Malak
How do you think your relationship has evolved, from when you first launched until now?
"We launched two years go, so we're like a married couple now. We just know each other so well and how we work, so we're very comfortable with each other." —Malak
"For a while I was making commercial music, and it wasn't authentic to myself. I was reading a book that talked about how authentic work really sets you free. Ever since then I stopped putting this filter of how people would receive my music and I started making music that I wanted to make."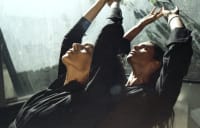 Chapter 3
UNN Models: Shifting Mindsets
As Managing Director and CEO, sister duo Yousra and Iman are providing opportunity for young models through their agency, UNN. UNN is the first modelling agency of its kind in Egypt, disrupting the region's beauty standards through showcasing diversity, charisma and presence.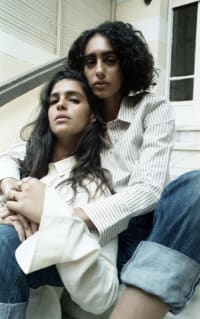 How could you tell from your professional histories that you were compatible for what you were embarking upon?
Yousra:

Iman has been modeling for 8 years, so from her experience she knows exactly how models should be treated and what should be provided. She's also very aware of what it means to model and represent, as an Arab, African or Egyptian face abroad. With her experiences she gets to pave the path for models. My business background on the other hand gives balance, I look more at expansions, financials, and bookings.
Iman:

Our collaboration is like brains and muscles. A lot of the things that I'm not able to do, Yousra fills the gap.
"UNN is an Ancient Nubian word, it means to give birth to something, and this is something that very much goes along with our vision and concept. We're trying to give birth to a new concept in Egypt, from every angle—how we operate, the protocols that we go by, the standards."
How are you similar, and how are you different in your approaches, behaviors and ideas?
Iman:

Our similarities and what keeps us together is the vision of UNN, but in terms of personality we're so different.
Yousra:

We're opposites in the way we think. Iman is so certain of what she wants—she's a go-getter. I'm more of a thinker. I'm better at vocalizing thoughts, while she keeps hers in. But trust and communication are what make our differences work. We're able to understand and communicate what each of us wants and needs.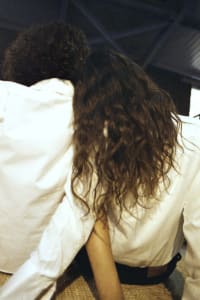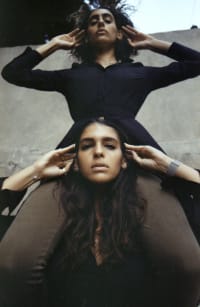 "We want to highlight beauty in a different way, not what we grew up thinking. We have to give Middle Eastern and African beauty a platform and push it on a global scale."
Chapter 4
miilkiina: Voicing the Unspoken
For Nadia Azmy, CEO, and Husam Odeh, Operational Director, diverse backgrounds and interests in community building led them to launch miilkiina together. Married in life and work, Nadia and Husam's creative agency focuses on providing opportunities and collaborating with local creative professionals. Authentic representation is the soul of their platform; community building and creativity the heartbeat.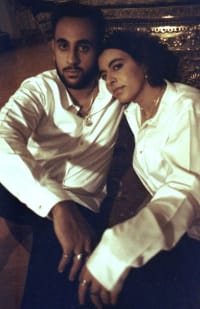 Tell me about your backgrounds, and how you met.
Nadia:

My parents are Egyptian and I was born and raised in the States, but I grew up with a strong understanding of my Egyptian identity and culture through black and white Egyptian films throughout my entire childhood. I was always interested in the impact of visual storytelling, and the idea of connecting to different experiences through these outlets.
During college I studied political science, and that's when I first met Husam. On our first anniversary, he got me my first real camera that I had my eyes set on for a while, and anytime we would meet up, we would always use the camera, documenting those times. Since the beginning, we've always had a supportive and encouraging dynamic.
How do you think your relationship has evolved, from when you first launched or started collaborating, until now?
Husam:

Before launching miilkiina, Nadia and I would barely see each other, and since we launched, we're together everyday. But it's a good thing, because we bring the best out of each other and we push each other to do good things, always reminding each other of why we started this.
Nadia:

Sometimes we have some of the most bizarre ideas and we'll tell each other—there isn't any hesitation. That sort of brainstorming dynamic is rare. There's blind trust in each other, and no idea is too big for us.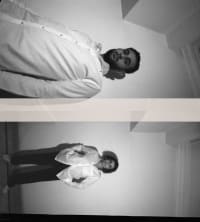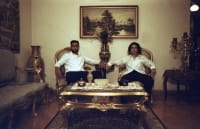 "I've always wanted to do something that I enjoyed and to be a part of a team where I felt like I was a piece of the fabric, and not just a seat that could be filled within a day. In terms of the professional mission, we want to create a creative community where privilege isn't part of the equation. If someone from anywhere in the world is seeking some sort of creative mentorship or opportunity, this is the place."
Shop the Shirt Collection